CREDIT-FOR-SEX SCAMs
This was one of the top 5 scams in Singapore in 2020, with the largest sum cheated in ONE single case amounting to SGD50,000..

Credit-for-sex scammers talk their victims into buying them a purchase or gift card (e.g. Alipay Purchase Cards, iTunes cards, etc) in exchange for a meet-up, date or sexual favours.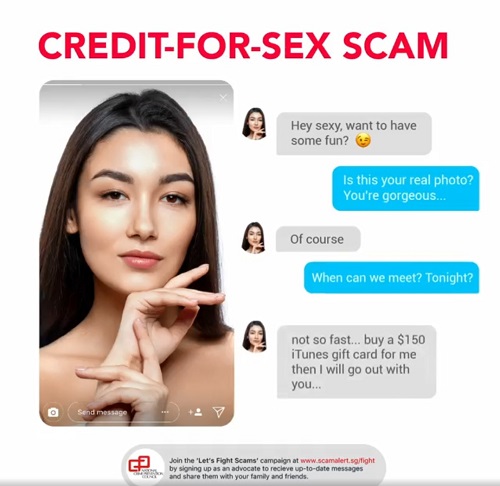 Credit-for-sex scams | credit: NCPC
how IT can happen
When a victim:
-> Befriends a stranger online, or searches for sexual services
both through social messaging or networking platforms; or certain directory or sexual services websites. 

When a scammer:
-> Proactively approach victims
through social messaging or networking platforms; or certain directory or sexual services websites.

what can happen
When the victim is mislead to believe they will have a meet-up, date or receive sexual services; the scammer will give instructions: 
-> To make advance payment via AliPay credits at AXS machines or
-> To purchase iTunes or Google Play gift cards,
in exchange for the sexual services.
Once advance payments are made, the scammer disappears and becomes uncontactable.

In most cases, the victims only realise that they have been scammed when no one shows up at the meeting point.

HOW TO spot a CREDIT-FOR-SEX scam
To identify such scams, always be stay vigilant:
« When on dating, social networking and sexual services platforms.

« With friend requests from strangers or online listings offering escort, massage or sexual services as they may be fraudulent in nature.

« With stranger requests for payments through credits or shopping gift-cards.

« When receiving threats, Scammers use it as scare tactics to extort victims into making more payments. Remain calm and never accede to their requests.

« When coming across young, attractive women from overseas offering escort, massage or sexual services in exchange for credits or shopping gift-cards. Especially those persistent in using temptation tactics, and thereafter using their 'managers' to threaten if victims refuse to continue with the transaction.
CREDIT-FOR-SEX scamS prevention tips
« Be wary of people offering sex in exchange of gift-cards or shopping-credits.
« Never give out personal (name and address) and financial/ credit card details freely to online strangers.

« Remain calm if receive any threats for money. Be in control of your emotions knowing that it could be a scam.

« Call a trusted friend before you act. You may be overwhelmed by emotions, which can cloud your judgement.

« Most importantly, never give out personal information like:
- Personal details (NRIC, address, date of birth),
- Bank/ financial details (bank account and/ or credit card details)
- Login ID details (Singpass),
- Passwords / PIN codes,
- OTP codes
Never share your personal information with anyone, as they may use it to threaten you at your home address, impersonate you or gain access to your bank accounts.


ADDITIONAL SCAM PREVENTION TIPS


SOCIAL MEDIA SECURITY
« Never reveal your PRIMARY email address and MAIN mobile phone number on social media platforms under the "About Me" section.
This is to ensure your personal safety.
« It is best to omit your mobile number from all social media platforms.

« Never share your personal life and whereabouts with complete strangers you have added as friends on social media platforms.

« For social networking platforms like Facebook, always set all posts. photos and friends list to private setting to allow only friends for viewing. This promotes one level of security for those whom you know, to reduce any opportunities for scammers to target them.


For scam advices, refer to National Crime Prevention Council:
Visit: www.scamalert.sg
Email: enquiries@ncpc.org.sg
Anti-Scam Hotline: 1800.722.6688
'X Ah Long' Hotline: 1800.924.5664


Call Police for assistance if you are a witness or if you are victim of such crimes.


Read Singapore Police News on >>
Credit-for-Sex Scams




If you suspect that you are a victim of scam,
you are not alone.
If you wish to speak to someone,
send us a message under our Facebook page for a quicker response at:
https://www.facebook.com/COPSGVolunteers  
Rest assured that your identity and shared details will be kept strictly private and confidential.


LIKE THIS PAGE?

LIKE OUR WEBSITE?
FACEBOOK LIKE US (:
---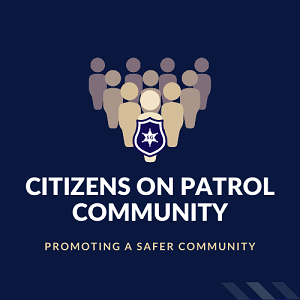 Share Your Story. Warn Others.
Ever encountered a harrowing experience related to this? Share your story to warn others not to fall victim to such crime/ scam!