ONLINE JOB SCAMS
The cyber world has evolved too rapidly in the recent years, bringing the entire world in the palm of our hands. With the pandemic initially limiting physical human engagement and activities, the shift towards 'living in' the cyber world has become a double-edged sword. For some who had lost their jobs during the pandemic, desperation and fear have driven some to find whatever means to survive and make ends meet. And the online world is turning into a haven for scammers to profile their job seeking victims and defraud them.
Online job scams is another channel for scammers to gain access to a victim's personal and financial information (i.e. bank account or credit card details). These scams prey upon people searching for new jobs through online websites like job portals and directory listings. Through observation, scammers are shifting towards utilising e-marketplace, social networking and social media platforms to prey on unsuspecting victims. With this increasing trend, we foresee some scammers to combine social engineering attacks like phishing scams in their modus operandi to steal personal and financial details from victims.
As job seekers are often desperate to find a position, they might overlook certain red flags that something is not right with an online job listing.

The key prevention is knowing how to identify the red flags for such scams, and know what to do; in the event you are targeted or had fallen victim.


how IT can happen
The more vulnerable job seekers who could fall victim to online job scams are potentially those who:
- Lost their jobs from retrenchments
- Had been unemployed for a long period of time
- Constantly fearing and worrying to make ends meet for themselves and loved ones
- Are laden with heavy monthly expenses
- Has an element of desperation to find employment
Vulnerable job seekers may unknowingly find unsuspecting online job scams through any of the following platforms:

Job portal/ website examples:
- Legitimate employment / job portals, e.g. Jobstreet, Jobscentral, Monster, Indeed
- (Free) Directory Listing
- (Free) Classified Ads, e.g. Gumtree

Social media platform examples:
- Social networking sites, e.g.:
--> Facebook (via fake job adverts or unknowingly joining Facebook groups offering scam jobs)
--> Linkedin (contacted by fake recruiters offering fake job offers)
- Social media sites, e.g. Instagram, Tik Tok
- e-Marketplace sites, e.g. Carousell, Lazada, Shopee

Messaging platform examples (where victims receive unsolicited contacting from scammers) via:
- Whatsapp
- Telegram
- Wechat


what can happen
- When unsuspecting victims are actively searching for online jobs, they are mislead and convinced to believe that the online job posting is genuine and true. They click on the enquiry button or contact details to start connecting with the scammer.
- When scammers actively contacts unsuspecting victims (i.e. victims receiving unsolicited messages/ calls) on the various platforms listed above, mislead and convince them to take up their online job offers that are fake.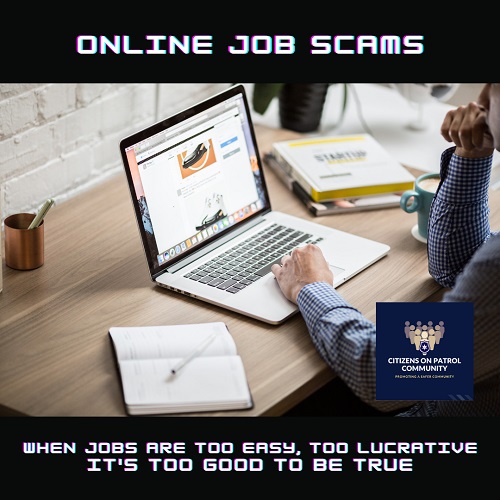 online job scams | copcommunitysg.com
HOW TO spot ONLINE JOB scamS

(OR OFFLINE JOB SCAMS) 
Online job scams come in many forms. Job seekers must always stay vigilant as the risks of a scam can be high. When reviewing online job listings (or job listings anywhere else), learn to identify the below red alerts.

« Direct job offers and/or fake job offer advertisements posted on these platforms are at greater risk
- Social media platforms: Facebook, Tik Tok, Instagram
- E-marketplace platforms: Carousell, Lazada, Shopee; and
- Social messaging platforms: Whatsapp, Telegram, WeChat

« Job offers that look and sound too good to be true (i.e. minimal effort/ 'easy job' and offering a lucrative salary of a few hundred dollars per day)

« Job offers linked to E-commerce (offering an enticing salary of SGD100-500 or more per day).
Such jobs require you to make advance purchases to help improve/ boost sales. You are promised with a reimbursement and a commission (typically 10%) will be paid. Initial reimbursement for 'advance purchases' will be made, but subsequent refunds will stop, i.e. system error or other 'excuses'

« Job offers that ask you to click on suspicious website links or downloading mobile apps to 'register', 'create an account', 'upload screenshots for work done' in order to get paid. 

« You did not apply, they contacted you

« Vague job requirements and job description

« Unprofessional email addresses, i.e. using free email services, e.g. @gmail.com, @yahoo.com, tom1234@abc.net
« Spelling and grammar mistakes in their email or messaging communications with you (Update: Scammers are now improving on their spelling and grammar)
« No interview process. You get the job right away

« Online interviews conducted only via messaging services

« Online jobs offered conducted only via phone calls

« There is no employment contract (note: becareful of fake contracts offering lucrative overseas jobs)

« Emails with no contact information, i.e. real physical company address, fixed line phone number, no company logos

« No online presence - when search engine results detects no such company/ organisation

« When you are asked to provide:
- Personal details
- Bank/ financial details,
- Login ID details,
- Passwords / PIN codes,
- OTP codes.
« When they ask you for money to 'secure the job'

« When they ask you to pay for something to offer you the job

« When they ask you to receive/ send/ transfer money using your personal bank account (and use money transfer services such as Western Union or MoneyGram)

« When they ask you to open bank account/s using your name for a business/ businesses

« When they ask you to receive a donation into your personal bank account/s and assist to deposit the money into a crypto kiosk

A clear confirmation of an online job scam is when job seekers had already fallen victim to one or a few combination of the above, and the 'recruiter' goes uncontactable. The victim by then would have suffered some minor or major financial losses.
A legitimate company offering real jobs will never ask for your financial details and money.

A legitimate company will need to prepare a proper employment contract that follows the Singapore law, and the contract must be signed by both the employer and employee. 
ONLINE JOB scamS prevention tips
Learning to detect and avoid online job scams is largely a self responsibility. Below are prevention tips to avoid being a victim of such scams:

DO COMPANY BACKGROUND RESEARCH
« A legitimate company can be found using their UEN under the registrar of companies at ACRA Bizfile.
« Use search engines to further verify suspicious companies using the keywords <company name + job scam + complaints>.
« If you cannot find anything, it is definitely a job scam.
« Some companies may set up fake company websites. Stay vigilant.

WHEN SEARCHING ONLINE FOR JOBS, BE WARY
« When the listed job position sounds too good to be true.

« When the job advertisements that sounds too 'easy' and too good to be true. We observe fake job adverts are becoming common on Facebook and e-commerce platforms (e.g. Carousell, Lazada, Shopee).

« When the job is purportedly offered by e-commerce platforms or legitimate organisations.
- Due to impersonation scams, call and check with the relevant platforms or organisations if there is any such job offer.
« When the job requirement and description are vague, especially no experience nor skills are required.

« When the job promises fast and easy money.

« When the job offers way above the average market rate (i.e. high returns) with minimal effort.

« When the job requires you to transfer money (for various reasons).

« When the job requires you to send money to collect a prize (or various other items).

«« Best is to ignore such jobs offers.


WHEN YOU RECEIVE UNSOLICITED MESSAGES ON JOB OFFERS VIA SMS, SOCIAL MESSAGING PLATFORMS OR EMAIL
« Ignore and block the senders (Report all suspicious job offer calls and messages to Scamshield)

« Do not engage a conversation with the senders

« If strangers offer jobs that are too good to be true, it is definitely a job scam.

« If 'friends' offer jobs that are too good to be true, it is likely a job scam too.


NEVER GIVE OUT YOUR PERSONAL INFORMATION TO UNKNOWN PERSONS or 'COMPANIES'
« Never give out your:
- Personal details (NRIC, address, date of birth),
- Bank/ financial details (bank account and/ or credit card details)
- Login ID details (Singpass),
- Passwords / PIN codes,
- OTP codes

Stay vigilant as some online job offers are suspected to be linked to:
- E-commerce scams
- Loan sharking / unlicensed money lending activities
- Loam scams
- Money mule scams
- Money laundering activities
ADDITIONAL ONLINE JOB SCAMS PREVENTION TIPS - SAFEGUARDING YOUR ONLINE PRIVACY

CYBER SECURITY
« Keep computer and mobile device operating system and virus protection software up-to-date.
Never ignore updates to ensure patches protect against new kinds of scams, viruses and ransomware. 

« Regularly change to strong passwords for important account logins.

« Stay alert and check websites being visited are secure. Secure web address starts with HTTPS, rather than HTTP. (Update: Scammers may also created HTTPS websites)

« Avoid using public WiFi. Use safe and secure WiFi connections. Our standard 3G or 4G connection is often more secured than those at public places.


SOCIAL MEDIA SECURITY
« Never reveal your PRIMARY email address and MAIN mobile phone number on social media platforms under the "About Me" section.
This is to avoid opportunities for any social engineering attacks.
« Create and use a SECONDARY email address for all social media/ online shopping platforms.
Keep a PRIMARY email address only for banks or government agency portal logins.

« Omit your mobile number from all social media platforms.

« Never share your personal life and whereabouts with complete strangers you have added as friends on social media platforms (i.e. ransom crime)



For scam advices, contact National Crime Prevention Council:
Visit: www.scamalert.sg
Email: enquiries@ncpc.org.sg
Anti-Scam Hotline: 1800.722.6688
'X Ah Long' Hotline: 1800.924.5664

Call Police for assistance if you are a witness or if you are victim of such scams.
If you suspect that you have received money in your bank account under suspicious circumstances, report it to the bank and the Police immediately..  


Read more about >>
Scams




If you suspect that you are a victim of scam,
you are not alone.
If you wish to speak to someone,
send us a message under our Facebook page for a quicker response at:
https://www.facebook.com/COPSGVolunteers  
Rest assured that your identity and shared details will be kept strictly private and confidential.


LIKE THIS PAGE?

LIKE OUR WEBSITE?
FACEBOOK LIKE US (:
---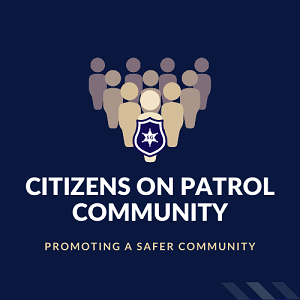 Share Your Story. Warn Others.
Ever encountered a harrowing experience related to this? Share your story to warn others not to fall victim to such crime/ scam!