---

Some basic lifesaving skills that is good to know and learn. While it is difficult to predict when medical emergency or crisis situations can arise, knowing how to respond to them safely and effectively can be critical in saving someone's life.


CPR & AED PROCEDURES
CREDIT: SCDF

Click for more info on:
Dispatcher-Assisted First Responder (DARE)
Community Emergency Prepareness Programme (CEPP)


---
IMPROVISED FIRST AID SKILLS
CREDIT: SCDF


---

FIRE PREVENTION & SAFETY TIPs
FIRE SAFETY FOR HOMES
CREDIT: SCDF


HOW TO USE A FIRE EXTINGUISHER
CREDIT: SCDF


HOW TO USE A HOSE REEL
CREDIT: SCDF


ESCAPING THROUGH SMOKE
CREDIT: SCDF


---

If you are equipped and qualified with basic lifesaving skills, you may sign up as a SGSecure first responder and download the below app.
APP ICON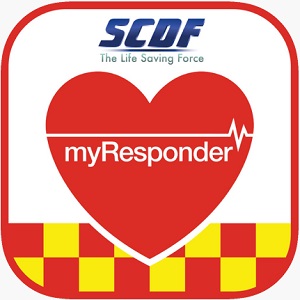 APP NAME

SCDF MYRESPONDER



FUNCTION

myResponder Mobile App is a project by the Singapore Civil Defence Force. It alerts volunteers to nearby Cardiac Arrest Cases to render first aid before ambulance arrival.
myResponder, allows volunteers access to:
- Geolocation notification of nearby cases
- Display of nearby incidents using OneMap
- Display of nearby AEDs using OneMap
- Geolocation enabled dialling of 995
- Access to the National AED Registry


SCDF MYRESPONDER M-APP
CREDIT: SCDF


D.A.R.E. - LEARN CPR & AED
CREDIT: SINGHEALTH


---

HELP FIGHT DENGUE
5-STEP MOZZIE WIPEOUT
CREDIT: NEA SG



DENGUE PREVENTION - LANDED HOMES
CREDIT: CLEAN GREEN SG




In view of our tropical climate, dengue has become a yearly and widespread challenge especially during the rainy seasons. Lives had been lost from dengue. The Aedes mosquito needs only clean, stagnant water as small in volume as the size of a 20-cent coin to breed. The best way to protect yourself and your loved ones from dengue, is prevention.


Those living in dengue cluster areas, should do the following three protective actions:
1. Spray insecticide in dark corners around the house
2. Apply insect repellent regularly
3. Wear long sleeve tops and long pants
NEA advises that persons with dengue can help prevent further transmission by applying repellent regularly so that mosquitoes do not bite them and pick up the virus from them. 

To prevent the Aedes mosquito from breeding in your homes and nearby areas, practise the following 5-step Mozzie Wipeout at least once a week:

5-step mozzie wipeout. Credit: NEA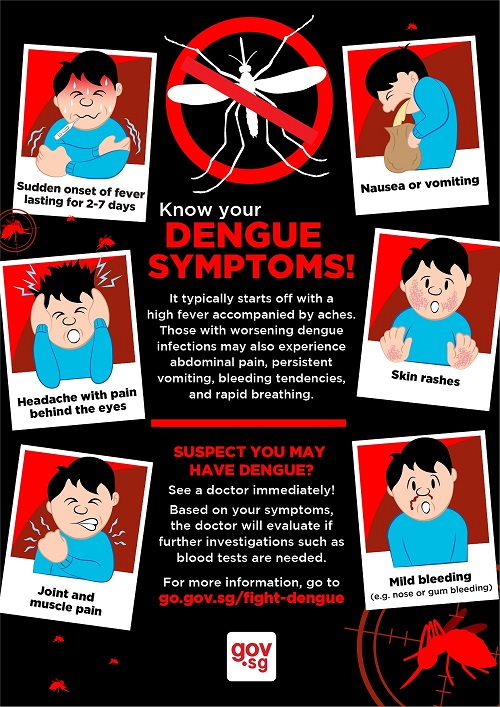 Know your Dengue symptoms. Credit: gov.sg

To check and stay informed if your area is under a dengue cluster red alert,
visit the National Environment Agency's website HERE

If you detect a suspected mosquito breeding area in your estate or around Singapore,
help lodge a report to NEA using the OneService app below.
For urgent assistance, call NEA at: 6225.5632

FUNCTION

The OneService Mobile App is part of the Government's on-going efforts to provide a one-stop reporting service to resolve municipal matters within Singapore.

Subscribers can assist to lodge municipal matters / issues/ feedback under the following categories:
- Abandoned Trolleys
- Animals & Birds
- Cleanliness
- Drains & Sewers
- Drinking Water
- Facilities in HDB Estates
- Parks & Greenery
- Pests
- Roads & Footpaths
- Shared Bicycles
- Safe Distancing (New for Covid-19 period)
- Others

For matters submitted that do not fall under the municipal services will be routed to, and attended by the relevant agencies/ authorities.
---
INSPIRING STORY
REX THE RESPONDER
Equipping with lifesaving skills to help others


CREDIT: GOVTECH


---
THANK YOU SCDF


OUR NATION OF LIFESAVERS
---
LIKE THIS PAGE?

LIKE OUR WEBSITE?
FACEBOOK LIKE US (:
---