ABOUT CITIZENS ON PATROL (SINGAPORE)
Launched in 1999, the Citizens On Patrol (COP) is one of the volunteer network schemes under the Singapore Police Force.

A similar concept to the more commonly known "neighbourhood watch" - COP volunteers patrol their neighbourhood and the community; and alert the Police when they observe suspicious items, activities or persons.

They also play an important role in engaging the community on crime prevention measures and raising crime awareness during patrols.
THE COMMITMENT
Citizens on Patrol members are:
- Appointed on a three-year term,
- Expected to perform a minimum of 2 hours of patrol per month,
- Attached to the Neighbourhood Police Centres (NPCs) that they select, and
- To patrol the neighbourhood, disseminate crime prevention advisories and report to the Police on suspicious items, persons, or crime in progress. 

Citizens on Patrol members don a blue vest and carry a COP ID card with them while on patrolling duties.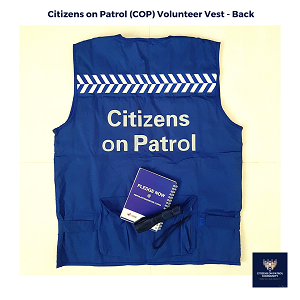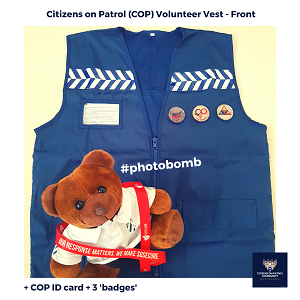 entry requirements
- Nationality: Singapore Citizen or Permanent Resident
- Age: 17-80 years old
training requirements
COP members undergo 1.5 days of modular training on the following; conducted by the Singapore Police Force and the Singapore Civil Defence Force:
1. Basic crime prevention and personal safety awareness,
2, SGSecure, and
3. Community Emergency Preparedness Programme (i.e. CEPP that covers CPR-AED + Improvised First Aid Skills (IFAS) + Basic Fire Fighting).

WHAT IS COP's PrIMARY ROLE?
The Citizens on Patrol's primary role:
- To patrol within the neighbourhood and the Neighbourhood Police Centre's boundary
- To alert Police on suspicious activities, persons or items 
- During patrols, COP help to raise crime awareness and share crime prevention advisories

WHO CAN JOIN THE CITIZENS ON PATROL?
Citizens on Patrol is for anyone:
- Who has an interest in crime prevention and sharing crime prevention messages with others
- Who likes to build a stronger, safer and more secure community through the spirit of neighbourliness
- Who is keen to keep an eye on their neighbour's premises, neighbourhood and their community
- Who is helpful to report any crime in progress or when they spot suspicious activities or persons to the Police
TO SIGN UP
Visit Singapore Police Force's website and sign up with the link at the bottom of SPF's Community Volunteer page on Citizens on Patrol at: Citizens on Patrol
CITIZENS ON PATROL (SINGAPORE) LOGO
Recognising the official logo for Citizens on Patrol.
The below is a trademarked logo that belongs to the Singapore Police Force.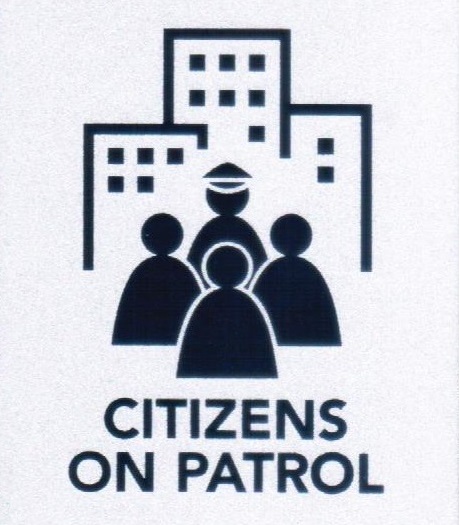 FIND your nearest
SPF Neighbourhood Police Centre
supporting the Citizens On Patrol


LIKE THIS PAGE?

LIKE OUR WEBSITE?
FACEBOOK LIKE US (:
---